May 20 2011


Walt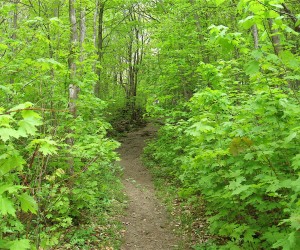 The appearance of fresh verdure is so dramatic that I have to touch the bright young leaves to convince myself that they are real.  Walking through a forest that has suddenly leafed out is absolutely delightful, and the perfumed smell of pollen and raw earth pushes me over the edge.  Trilliums, blue and yellow violets, and the white starbursts of baneberry accent the bright green foliage, putting a permanent smile on my face.  An unseen hermit thrush sings the perfect song for a day like this – nothing but flute-like joy.  How can anyone be anything but happy on a day like this?
I sweat heavily while walking slowly along the damp trail.  The humidity is high, thanks to incredibly persistent rains during the past few weeks, and mosquitoes gather around me the moment I stop to catch my breath.  I don't care.  I am grooving on a wild world suddenly springing to life.  I am getting into the green.
My dog Matika, also exuberant, races up and down the trail, splashing through puddles and splattering me with mud so frequently that it seems intentional.  But all I can to is egg her on with: "You go girll!"  Sometimes being muddy is a good thing.
A gray squirrel peeks around a tree trunk at me and my canine companion.  A woodpecker cackles in the distance, as if it too is intoxicated by the green.  False solomon's seal, only days away from blooming, underscores the promise of the season.  No doubt about it, the best is yet to come.
You'd think that, after all these years, springtime would hold no surprise for me, that I would have lost all enthusiasm after so many decades of it.  But a part of me is as young as the countless insects and other forest creatures stirring to life at my feet.  I can't help myself.  I am young at heart despite wrinkles and gray hair.  And this world is my playground – a true marvel in the universe, a planet fecund.  Thank god for it.
One response so far
One Response to "Getting into the Green"
Deedee Burnside

on 31 May 2011 at 9:27 am

1

Love how you express how I feel too!!