Sep 20 2011


Walt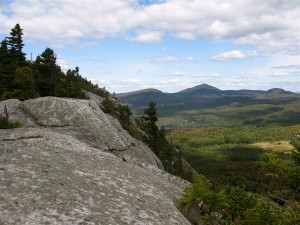 Someone recently asked me what my favorite mountain is. Without hesitation, I blurted out, "Wheeler Mountain," surprising myself by this.  After all, I hadn't seen the mountain, much less hiked it, in over twenty years.
A couple days ago, I revisited that great mound of rock.  My wife, Judy, wanted to visit friends in Vermont's mythical Northeast Kingdom, so I tagged along.  Wheeler Mountain is only twelve miles away from her friends' house.  So after lunch, I broke away to climb it with my dog, Matika.
I had to use maps to find the trailhead, but the trail itself was surprisingly familiar.  The mountain hadn't changed much in my twenty-year absence.  My memory of it made the absence seem more like two years.
Wheeler Mountain is a great place to hike.  It's a fun scramble over solid granite that provides breathtaking views for relatively little effort.  And the mountain is located just far enough off the beaten path to feel remote.  But it's important to me for a different reason: I had my best guiding experience there.
Back in the early 90s, I worked as a guide for Vermont Hiking Holidays.  We took novice hikers on day hikes in Vermont and the Adirondacks, introducing them to the many wonders of nature.  My greatest success occurred on Wheeler Mountain. I had seven yuppies who wanted more than the tame morning hike done by the larger group.  That afternoon, I took them up Wheeler Mountain with the promise of great views.  During the hike they were all chatting away incessantly, per usual, but when we entered a small copse of conifers near the top, I stopped and said: "Listen."   It took a couple minutes but eventually they all heard it, even the stockbroker.  Their eyes widened as they slowly grasped the great, wild silence enveloping the mountain.
My life as a nature writer is all about getting people to stop and listen to the wild.  This task has turned out to be much harder than I ever imagined it would be.  We live in a noisy, fast-paced culture chock full of distractions, and the elemental wildness of the world is overwhelmed by it.  We are overwhelmed, I should say, and the wild remains largely hidden in plain sight as a consequence.
There are easier hikes up more magnificent mountains and much more dramatic views, but Wheeler will always be my favorite.  While climbing it the other day, I stopped and listened for a minute or two to the sound of my own heavy breathing until a raven in the distance broke the silence.  Then I smiled.  Yessir, Wheeler still has the power… and that gives me hope.
No responses yet