Oct 08 2011


Walt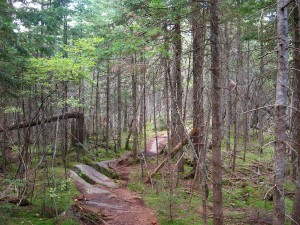 Walking the boreal forest, I feel the tug of wildness stronger than anywhere else. It's the starkness of the landscape that brings this urge out of me, I think.  I grow fangs when I'm in it.  The forest itself makes me want to drop down on all fours.
This isn't a forgiving landscape. You don't come here to groove with benign nature. You come here to howl.
Mostly bogs and conifers, it's easy to get turned around in the boreal forest. And hypothermia is an ongoing concern. Even in the summer, it's often cool and damp. Because the landscape in Vermont turns boreal at higher elevations, it's often shrouded in mist as well. That only adds to its mystery.
The closer one gets to the equator, the greater the diversity. But in the lean, cold northern latitudes, only the heartiest life forms survive. Even then by a dangerously thin margin. Think spruce and fir. Think pitcher plants, club moss, and the ghostly white Indian pipe. Think moose, wolf, bear.
There are only patches of boreal forest in Vermont's Green Mountains. There's a bit more in the mythical Northeast Kingdom. But northern Maine is mostly boreal, as is a good part of New York's Adirondack Mountains. Alaska is utterly boreal. In other words, the places I like the most are boreal. Clearly I'm a creature of the north.
More than once I've been chilled, wet and almost lost in the boreal forest. "Almost," I say, because the disorientation is intentional. I have my ways of getting out of the woods in a pinch, but I'd rather go deeper and get just a little bit more turned around. The dread of not knowing exactly where I am is a tonic that I imbibe on a regular basis. It keeps me from being too civilized. It keeps me from taking my lofty, philosophical notions too seriously. It keeps me in touch.
Go ahead and tell yourself how great humanity is – what we've done both individually and collectively, and what we are still capable of doing. Then go spend a week or two alone in the boreal forest and feel yourself whittled down to size. Granted, it's not for everyone. But I can't think of a better place to gain perspective on computers, cars and everything else. When the forest itself howls, you either run for cover or howl with it.
One response so far
One Response to "Boreal"
Oh yeah. Nice post. Here in Florida I'm having to adapt. Swamplands now do the trick. No roads in, no roads out. I get into a boat before I pull on hiking shoes. Gators, mosquitoes. A human paradise? Hardly. The wild.