May 28 2012


Walt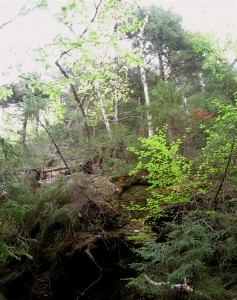 At first I was only looking for a place to go for an easy day hike, but when I saw Bone Mountain on the map, I felt an old, familiar urge to push myself to the limit again. So I grabbed my rucksack, loaded my dog Matika into the car and headed for that rugged high ground.
There are no trails to Bone but a brook tumbles from a notch between that peak and Woodward. I tagged the brook and followed it until I was a mile or so away from the road.
As I recalled from a bushwhack many years earlier, the notch between Bone and Woodward is so cluttered with rocks and fallen trees that one can't actually touch the ground while traversing it. Not good for my dog, so I left the brook long before reaching the notch. I started moving uphill through the trackless forest, following a compass bearing east southeast, towards a shoulder of the mountain.
Hobbled by hobblebush, sweating profusely, and stopping frequently to catch my breath, the climb was as hard as any climb can be. More than once I dropped onto all fours to negotiate steep pitches. Matika did better than me as a rule, but it took my eye to find a route up through cliff walls. When finally we reached the summit, we were both played out and running low on water. That's when I caught a glimpse through the trees of another peak half a mile away – one that looked more like Bone than the summit I was standing on.
Bone Mountain has taken on religious significance for me over the years precisely because it's so damned hard to reach. I've only been on top of it a few times, having missed it more often than not. As I sat on that false summit, stewing in humility, I realized that I'd missed it again.
The descent was long, steep, and hard on the knees. Once I had to rescue my dog from a cliff's edge where she got stuck. After that it was a tiring slog down to the brook that took us out.  I was happy to see the car again, but just as happy to have done the bushwhack. After all, I got what I was after.
No responses yet