Jul 10 2012


Walt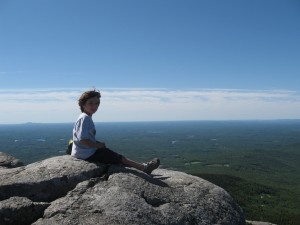 Yesterday I finally made good on a promise to take my grandson Mason up Monadnock. He had been bugging me about it for years, ever since his family had moved to a new home in New Hampshire only fifteen minutes away from that mountain. I told him we'd do it when he was eight, thinking he'd have to be at least that old to have the stamina necessary to make it to the top. Well, he turned eight a week and a half ago, so off we went.
While studying the map a few days before the hike, I began to worry. With 1800 feet elevation change over two miles, I wasn't sure the little guy could do it. More to the point, I didn't want the hike to be so grueling that it turned him off hiking forever. As we were getting ready I told him that we didn't have to go all the way to the top. In so many words, he told me that failure wasn't an option.
We got an early start, walking in the cool morning air. I set a steady pace as the trail gradually climbed. I checked with Mason regularly to make sure he was doing okay. His face was expressionless. He sat down every time I stopped to catch my breath. I warned him that it was going to get steep ahead. He said nothing. But when we reached the first pitch he sprung to life. He dropped his walking stick and scrambled up and over the rocks on all fours. He moved just like Spiderman, as he explained to me later. "Wait up!" I shouted after him, then I started climbing a bit faster.
As the trail grew steeper and rockier, Mason became more animated. "Come on, Gramps!" he yelled then he stopped and waited for me to catch my breath. I started laughing. Oh sure, he'd get up the mountain, all right. But would I?
Mason was surefooted and being careful. Still I didn't want to take any chances. I kept him close to me when we broke above the tree line. I pointed out the cairns, explaining how these rock piles were necessary to find one's way across the barren rock whenever the mountain was wrapped in clouds. Ours was a calm, blue-sky day, but Mason suddenly leaned forward as if struggling against a strong wind. "Keep going, Grandpa. We have to make it to the top," he said. I assured him that we were almost there.
Upon reaching the summit, Mason found a rocky promontory for us to sit and enjoy the view. We drank plenty of water and ate snacks as a cool breeze dried our sweaty shirts. We shared the summit with half a dozen other hikers. During the long descent back to the parking lot, we passed 59 other hikers on their way up. Mason kept count. We were both glad to be finishing our hike as the temperature reached 80 degrees. We hopped in the car and went to Jaffrey for lunch.
"So what are we going to do for my ninth birthday?" Mason asked. I just smiled, being careful not to overcommit. Then I told him that I'd think of something.
No responses yet