May 31 2013


Walt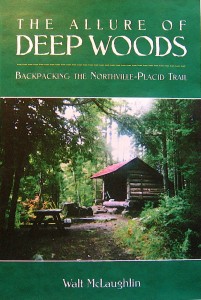 My narrative about hiking the Northville/Placid Trail, The Allure of Deep Woods, is now in print. I couldn't be happier. The folks at North Country Books did a fine job with it.
The NPT passes through some of the most beautiful country in upstate New York's Adirondack Park, traversing one wild forest and four wilderness areas. I was wet and muddy during most of that two-week trip but didn't care. Just thinking about it makes me want to plan another big outing. What's wrong with me?
As most of you know, I can't walk a mile without making an observation about the natural world, commenting on the importance of wildness, or breaking into some historical rant. This book is chock full of it. I didn't hold back.
You can order a copy by calling North Country Books at (315) 735-4877, or going to my website: woodthrushbooks.com. Enjoy!
One response so far
One Response to "Adirondack Book Now in Print"
Walt – It was a pleasure working with you to bring this book to fruition. We couldn't be happier with the final product! -Zach Steffen (North Country Books)