Sep 08 2013


Walt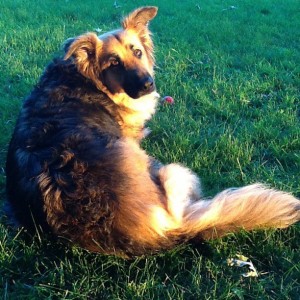 Yesterday, while I was out promoting my Adirondack book, a fellow asked me what my next adventure would be. I told him that I wanted to do the Cohos Trail in northern New Hampshire. Would I be hiking it alone? he inquired. No, I told him, my dog Matika will be accompanying me. He looked at me like I was crazy.
I have a few friends whose company I enjoy on the trail, and I like going out with my wife Judy every once in a while, but Matika is my #1 hiking companion. She's my #1 fishing companion, too. In fact, during the past seven years, she has been with me on nearly every outing. Usually I mention her sniffing around in the background. Occasionally I write about her at length. Sometimes I don't mention her at all. But she is almost always there.
Matika is a long-haired German shepherd that Judy and I rescued from an animal shelter in 2006. Her origin is hazy but we know the breed. We had another dog like her several years earlier. When we rescued her, the vet told us she was about a year old. In dog years, that makes her about my age now. If we're going to do another trek together, we'd better do it soon.
Matika is smart, quite attentive, and gentle. She's a good dog. She's bossy with other dogs, though – a trait I haven't been able to correct. She loves people. I can't help but feel she'd make a good companion to a good number of dog handlers. But it's my good fortune (and Judy's) to have her in my life.
Matika loves the woods as much as I do. She also likes her soft bed and other creature comforts so I had my doubts about her penchant for wildness at first. But that doubt vanished when she hiked the 100 Mile Wilderness with me. After that trek, I've called her Wilderness Dog. And for the most part she has lived up to the name.
We've walked many brooks, bushwhacked, and hiked countless miles together. We've been overheated, bug-bitten, cold, rain-soaked, and muddy together more often than I care to recall. She's slept with me beneath the tarp so many times that it would seem strange now to sleep under it without her. Matika is not my pet. Nor am I her master. She's my canine companion, and there is no one who understands my wildness better, my wife notwithstanding.
Who is going with me on the Cohos Trail?  Wilderness Dog, of course. And that seems perfectly natural to me.
No responses yet