Jan 27 2014


Walt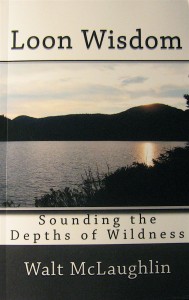 Loon Wisdom: Sounding the Depths of Wildness has just been published. Thanks to the efficient print-on-demand services offered by CreateSpace, I was able to get this book out there rather quickly.
This is the best, most comprehensive collection of my short work ever put into print. Two-thirds of these personal essays and narratives have appeared in earlier collections of mine, but the other third are relatively new or previously unpublished.
There are twenty-five pieces in this collection altogether.  The earlier work focuses upon elemental nature and our various interactions with it, while latter work delves into the importance of wildness to being human – a favorite theme of mine these days. Nearly all of these pieces catch me hiking, fishing or simply being in the woods.
Ordering WTB titles is much easier than it used to be. You can get a copy by going to Amazon.com or visiting my website, WoodThrushBooks.com and using PayPal.  
No responses yet