Jul 05 2014


Walt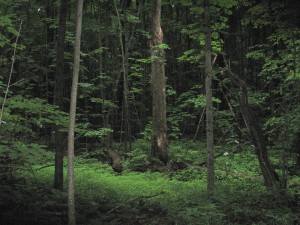 After spending the better part of the morning reading a book about natural theology, I went for a short hike. My dog Matika needed the exercise. So did I. Besides, Vermont's warm season is short. It's best to get outside when one can.
I took a cigar with me. I had something to celebrate. For a week or so I had a dull yet persistent pain in my abdomen. It worried me. When tests showed it was only an ulcer, I breathed easy again.
A mile into local woods, I reached a fallen tree upon which I often sit and think. I did just that as a warm summer rain commenced. Had no raingear with me but didn't care. It's good to groove with the elements every once in a while. The rain kept the mosquitoes at bay, anyhow.
I stared into a small forest glade as the sky darkened and the rain intensified. Matika nudged me with her nose hoping to get us going again. I ignored her.
I pondered the definitions of God that I'd read about earlier and how they measure up to the natural world. Immersed in green, I puffed my cigar. The only God-talk that makes any sense to me is that which is perfectly in sync with wildness. The rest is just talk.
The rain kept falling. Eventually, I got up and continued my woods walk. Matika was happy to be on the move again. I was happy to be alive and well in such a magnificent world. I snuffed out the cigar then returned home to spend the rest of the day with my loving and beautiful wife.
One response so far
One Response to "Rain Rumination"
Bob Stanton

on 06 Jul 2014 at 1:37 am

1

Sounds like a great day, Walt. I've recently taken up trail running in an effort to get in shape, albeit in small doses. My favorite time to run is when it's raining – it makes me feel scrubbed clean and renewed.