Jan 30 2018


Walt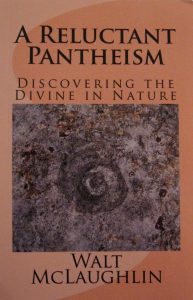 Three years after putting the first few words down on paper, A Reluctant Pantheism is now in print. It was officially published at Amazon two weeks ago, but the first shipment of books just arrived at my doorstep this afternoon.
This is a book I've wanted to write for decades – a full-length work of religious philosophy. Such things can't be rushed, though. It has taken me the better part of a lifetime to sift through all the theories, beliefs and hard science regarding the nature of nature, and to conjure up some sensible concept of God as a result. My own spiritual quest, begun as a teenager yet continuing to this day, makes anything I say or write about the matter rather inconclusive. Still, I have dived headfirst into this subject, and it feels good to have done so.
A Reluctant Pantheism is not an easy read, even though my wife Judy says it's more accessible than my other philosophical writings. Nor is it suitable for those of you who have your vision of the world all cut and dried. In this book I venture into that nebulous realm where natural science and religion meet – a realm where conscientious philosophers and theologians have been scratching their heads for thousands of years. And yes, there's more of my own story in this book than I care to admit. In short, I doubt it's like anything you've ever read before.
So if you're in the mood for something different, check out this book. You can order it at my website: woodthrushbooks.com, or you can find it at Amazon.com. Facebook or email me to share your thoughts if you do get into it. I'd like to know how this book is received.
Comments Off on Pantheism Book Is Now in Print