Jan 28 2015


Walt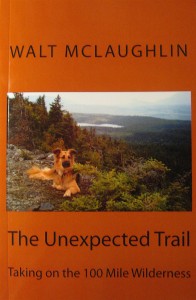 Finally the Maine hiking narrative has reached print. A lot of readers have been waiting for it, I realize. I've been busy promoting my Adirondack book during the past year and a half so I'm just now getting around to publishing this. At any rate, The Unexpected Trail is now available both as a paperback and a Kindle download at Amazon.com. Those of you would like to purchase it directly from me can go to woodthrushbooks.com. I'll have copies in-house and ready to ship in a week or so.
The Unexpected Trail is a detailed account of my trek through the 100 Mile Wilderness, located in northern Maine. It's the most remote section of the entire Appalachian Trail, where supplies cannot be acquired. That means anyone hiking it has to carry provisions enough for ten days, at least.
Fording rivers, traversing two mountain ranges, and slogging through bogs – yeah, it was a tough hike to be sure. But Maine's sprawling North Woods is lush, wild and beautiful.  Most of its backcountry lakes and ponds are pristine. Well worth the effort, even for a chubby, old woods wanderer like me.
Matika, my longhaired German shepherd, accompanied me on this trek. She carried a few things in her doggie backpack and provided lots of comic relief along the way. I was worried about her ability to navigate the toughest sections of trail, but she stayed out of trouble for the most part.
This narrative is similar to previous ones that I've written yet it has its own distinctive flavor. I've done my best to capture the unique character of the Maine Woods – it's history and ongoing land-use fight as well as its flora and fauna. I hope you enjoy reading it.
No responses yet