Mar 02 2015


Walt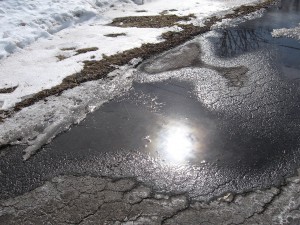 As I sit on the side porch, warmed by sunlight beaming though closed windows, it doesn't seem to me like spring is far away at all. Snow is piled several feet deep in my front yard and around the driveway, but I can see pavement and the icicles hanging down from the roof are dripping constantly. With the thermometer reaching into the 20s, we're experiencing a heat wave compared to the steady parade of subzero temps last month. That's encouraging.
It's March now. The Vernal Equinox is only a few weeks away. And while those of us who have lived here in the North Country a decade or more know better than to start looking for robins, the maple sap should start running soon. Surely that counts for something.
In my driveway there's a puddle of snowmelt, and in that puddle I see the reflection of a relentless sun. I find stark beauty in that reflection as well as in the craggy, half-melted edges of ice nearby. For those paying attention, and I'm sure the birds at my feeder are doing just that, the early signs of seasonal change are clear. Yes, some nasty winter storms come our way in March, but a big thaw will soon take place regardless.
That's what is nice about the seasons here in northern New England. Just when you think the heat/cold/rain is never-ending, things change. Nothing lasts so long that it devastates us – not if we pay careful attention. Things change. It's only a matter of time.
No responses yet