May 19 2016


Walt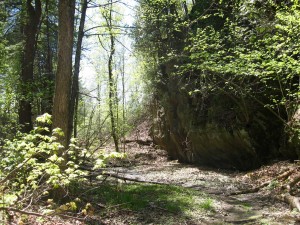 I took my dog Matika with me when I went book hunting in Burlington yesterday, thereby committing to a short hike at some point. At midday I stopped by a city park only to find it closed. Hmm… Went to another place along the Winooski River, parked my car and slipped into the woods. Matika dashed ahead.
I followed the trail as long as I could then drifted into the trackless woods. Matika followed. A short while later we dropped into a ravine as wild as it was beautiful despite discarded tires, a little trash, and the rusty remnant of an old car. I followed a dry creek bed leading nowhere, all the while listening to the sounds of the bustling city around me.
This is how I got my start as a woods wanderer many years ago, tramping through undeveloped pockets in urban settings, enjoying a taste of wildness close to home. The half-burnt pieces of wood in a circle of stones that I found assured me that kids today enjoy this wildness as I once did… as I still do.
The tramp didn't last long. There wasn't anywhere else to go once I had reached the river at one end of the ravine, and the power lines at the other. No matter. Matika got a chance to stretch her legs, and I got a taste of wildness during the middle of my workday. That would have to do for the time being.
No responses yet