Jul 17 2016


Walt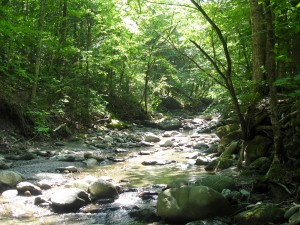 My wife wants me out of the house while window shades are being installed. That's all the excuse I need to drop everything. Never mind that thunderstorms are in the forecast for this afternoon. As soon as I finish doing the bare minimum work for my business, I grab my fly rod, load my dog Matika into the car, and head for the hills.
By midday I am bushwhacking downhill to a favorite brook. A tremendous sense of relief sweeps over me as I tramp through the woods. This is my first excursion into open country in months.
The stream is low, even for midsummer. We need rain. That said, I hope the dark clouds gathering overhead hold off long enough for me to make a few casts. After that, it doesn't matter.
The stream is beautiful. Crystal clear water finds its way down a rocky streambed surrounded by lush green vegetation. I have walked this brook or ones like it a thousand times yet they never fail to charm me. The rush of flowing water, the cool shade, and that earthy smell – I'm a real sucker for this kind of wildness.
Matika sniffs around as I ply the water with nearly invisible line and tiny fly. When I pull an eight-inch brook trout from its hiding place, she dances around me, chomping at the creature flipping about desperately in my hands. I release it into nearby shallows so that Matika can give chase. She doesn't stand a chance. The brookie torpedoes out of sight in seconds.
Dripping sweat and menaced by biting insects, I hobble over rocks and around fallen trees for another hour or two, maintaining a low profile to keep from spooking the fish. I catch and release a couple more brookies despite the less-than-ideal fishing conditions. When finally thunder rumbles in the distance, I splash cold water into my face then leave the brook.
The uphill scramble to a dirt track is hard. The amble down the road is easy. I reach my car right before the first raindrops fall. It's raining by the time the wheels touch pavement. On the highway it's a downpour. All the way home, I marvel at how lucky I've been.
No responses yet