May 29 2017


Walt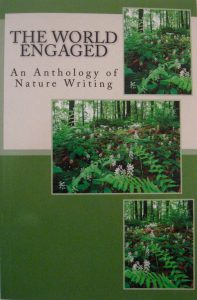 The World Engaged, the new Wood Thrush Books anthology of nature writing, is now available. I collected work for it for nearly two years, and spent the past three months putting it together. So I'm very pleased to finally have this book in print.
Unlike previous WTB anthologies, this one is a full-length book: 158 pages of nature-related poetry and prose. 23 contributors. Some of them have had their work showcased by WTB before: Howard Nelson, Benjamin Green, Michael Jewell, and Helen Ruggieri to name a few. But there are new voices in this anthology as well: Susan Cohen, Stuart Bartow, Vicki Graham and half a dozen more. And a piece by yours truly, of course.
This time the selections are as diverse as possible, from deeply personal accounts to philosophical rumination, from conventional writing to the experimental, and touching upon a wide variety of subjects. Everyone has a different way of engaging the natural world and I wanted this anthology to reflect that.
You can get this book at the Wood Thrush Books website. I just posted it. Or you can get it from Amazon.com. It's available there print-on-demand. Either way, you'll have it in about a week. Enjoy.
No responses yet