Nov 26 2017


Walt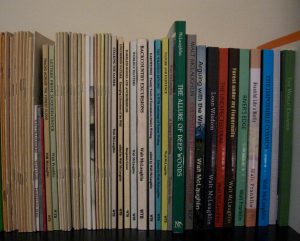 Every once in a while I stop and take a long, hard look at my life. I consider myself perfectly normal, but my wife likes to remind me that I operate way out of mainstream. She's right, of course. I fill my days with tramps through the woods, writing, publishing and selling books, and philosophical speculation – very little of which is good for the economy.
Lately my mind has been firing on all cylinders. I've written a few new essays, put the finishing touches on my pantheism book, and edited a manuscript of Walt Franklin's that I'll publish next spring. In addition to this, I've been reading lots of books and papers on human nature while working out the intricacies of wildness and being human. All this literary work keeps me busy, to say the least.
What's it all for? I look at the long row of books my bookshelf that I've written and/or published and wonder who cares about my thoughts beyond a small group of faithful readers. Who will care a hundred years from now? More to the point, does the world really need another worldview? Aren't there enough of those already?
Funny how I break into a fit of self-doubt every time I put on my philosopher's hat. But response to my work during the past 25 years has made it clear to me that philosophy – my philosophy in particular – doesn't sell. What the world wants from me are hiking narratives, not rumination. So I drop my pen and go for a hike long enough to get out of my head, to see what the wild has to say about all this. And that's how it happens. That's how I become a philosopher of wildness. All nature wants me to forget about economics and focus on what's real.
As a self-proclaimed philosopher, I have no credentials. I wander, I wonder, I write. That is all. The forest is my university and its inhabitants are my teachers. I dismiss everything I find in books or on the Internet that refutes the wild. I embrace Nature with a capital "N," and seriously question whether anything exists beyond it. In addition to this, I live my funky life despite what's good for the economy. And that, I suppose, is what makes me a heretic.
No responses yet