Dec 26 2018


Walt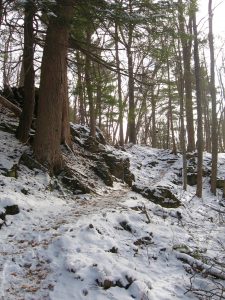 After lounging around the house all day yesterday, I awoke this morning with a tremendous urge to get out and make tracks. Didn't have to talk my old dog Matika into it. She was right on my heels the moment I put on my boots.
Clearly I wasn't the only one needing to walk off the holiday feast. The trail at Niquette Bay had plenty of boot prints in it. All the same, I had the place pretty much to myself late in the morning.
With so little snow on the ground, I didn't bother bringing my Microspikes with me. That was a mistake. Icy patches caught me off guard a couple times and down I went. Other than that it felt good to ramble – to stretch my legs, keep a leisurely pace, and breathe in the frigid air. Hiking can be just as pleasant in December as it is in June.
The sun burned halfheartedly through the clouds. At midday it felt distant and the surrounding trees casted long shadows. There's no doubt in my mind as to what time of year it is. Not that I'm complaining. As long as I can get out and walk every once in a while, I'm okay with it.
Back home now, I'm surprised by how quickly dusk has come around. Surprised once again, I should say. Still I wrap up the year's business and make plans for the near future. Soon the calendar will turn and I'll be back to my literary work with gusto. All the same, I'm daydreaming about a rigorous trek on the Cohos Trail – something I've wanted to do for a long, long time. This coming summer I'm going to make that happen. Every walk between now and then anticipates it.
No responses yet