May 21 2020


Walt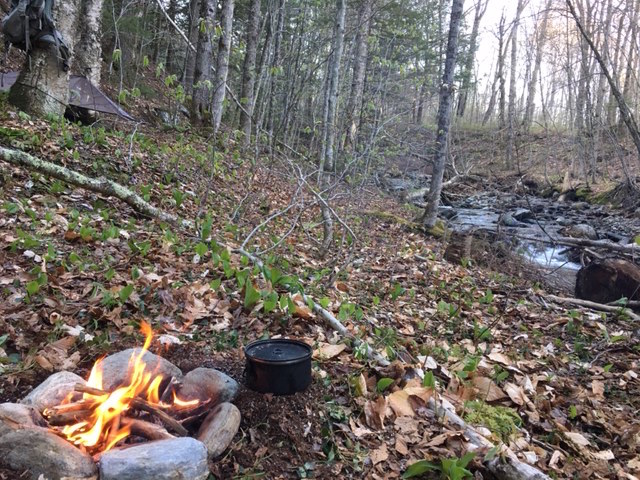 What a dramatic change in weather! Frost warnings one week; temps climbing into the 70s the next. At long last, I can go into the mountains overnight without freezing my ass off. And no rain in the forecast, either. So without hesitation, I load up my pack and am out the door.
With a desire to avoid people altogether (pandemic or no), I head for the Calavale Brook. It's located somewhere in northern Vermont and that's all I'm willing to say. The access road to it is too heavily eroded for my little car so I approach the brook from another dirt road a mile away. Sort of. Actually, I drive that road until it becomes a track, then walk that track until it ends at someone's deer camp. Then I bushwhack along a NNW bearing through the woods. Eventually I hear water. Then I see it.
I find a relatively flat spot near the brook and set up my tarp amid wild lilies. Then I create a campfire circle a little closer to the water. Home sweet home, with three painted trilliums marking the boundaries of it. A good place to relax, meditate, and scribble in my field journal. The constant sound of water rushing past is quite soothing. The black flies aren't too bad. The sun slowly settles into the ridge behind me and soon I am staring into a campfire. Once I've had enough of that, I go to bed. The naked trees (leaves not yet unfurled) point to a thousand stars illuminating the heavens above. And it's good to be alive.
Despite my tossing and turning, I manage to get a fairly good night's sleep. But getting out of bed and into the chilly morning air is a bit rough. Temps dropped significantly overnight. I snuggle next to a morning campfire and life is good again. When the black flies come back out, it's time to go. After making the campfire circle disappear, I head out the same way I came. Only now I'm in a much better frame of mind. A solo overnighter is good for that.
No responses yet