Jul 09 2020


Walt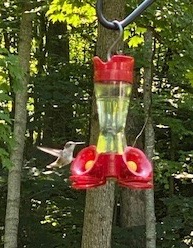 With the pandemic raging, Judy and I have been spending a lot of time in our backyard lately. Oh sure, I've been getting into the woods some. Earlier this week I hiked into the Breadloaf Wilderness to find a camping spot that I intend to use in a week or so, and I've done a little trout fishing to boot. But with hummingbirds visiting on a regular basis, our backyard seems like the place to be.
For years Judy and I have tried to attract hummingbirds, but only this year have we succeeded. Judy brought home a couple large hanging plants with red, tubular flowers. We hung them from wrought iron shepherd's hooks not far from our patio, along with a couple feeders. We displayed all this early in the season, and Judy has been diligent about keeping the sugar water in the feeders fresh since then. Lo and behold, the hummingbirds came! First they came once or twice a day, then all day long.
Living a few miles outside of town, with our home backed up against some woods, we've had plenty of other visitors as well. Barred owls hoot in the evening and have flown across our yard a couple times. A flock of turkeys passes through daily, taking whatever grubs they can extract from our grass. Woodpeckers and various songbirds visited our feeders in early spring. Deer, skunks, raccoons, garter snakes, dragonflies, toads, field mice – we have plenty of visitors. But the hummingbirds are something else.
What is it about these little creatures that make them so attractive? Is it the sheer beauty of their iridescent feathers, the way they hover in mid-air, or the sheer speed in which they come and go? Whatever it is, hummingbirds captivate us – not just Judy and me but a good number of people. Go to any hardware store and you'll find a wide variety of hummingbird feeders there.
I have every intention of getting in the woods again very soon, midsummer heat or no. But I won't expect to see as many creatures up close and personal as I do in my backyard. The hummingbirds now feed while Judy and I are sitting on the patio only a few feet away. And that feels pretty special.
No responses yet