Jul 12 2021


Walt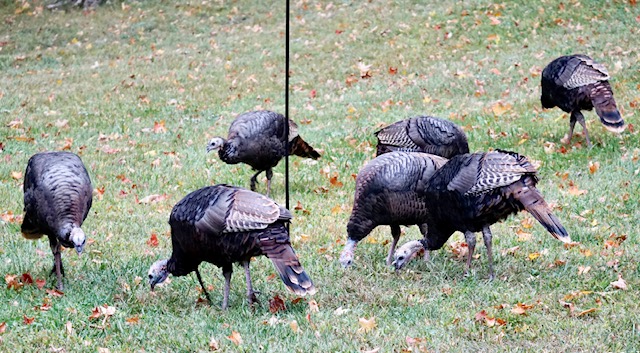 Early this morning I spotted an turkey with its new brood in our back yard. Last year we had a bunch of them come through our yard on a daily basis. Judy and I are hoping that happens again this year.
We live in a grove of maple trees that used to be tapped for syrup but is now a cluster of homes. Only two miles out of town, our neighborhood hardly qualifies as being rural, but the wild animals living around here don't know that. They visit us on a regular basis.
We've put up several bird feeders so we see the usual suspects during the day: woodpeckers, goldfinches, nuthatches, and other avian inhabitants. Crows and mourning doves scrounge around at the base of the feeders. Squirrels take advantage of the situation, of course. All our feeders have baffles on them because of the squirrels – circular metal obstructions halfway up the poles to the feeders that confound those rodents. A single chipmunk scurries about, as well. Yeah, our backyard is a busy place.
Recently field mice got into our garage and made a real mess of things. That probably explains why I found a garter snake in the garage once. But the snake didn't keep the mice from damaging one of our cars. So the garage doors stay closed now, and eight highly effective mouse traps take care of the occasional mouse that gets in anyway.
Gary Snyder once said that the wilderness isn't all berries and sunshine. The same could be said about our backyard, even though there there are plenty of berries to be had, as the deer passing through know all too well. They like to munch on the flowers in our garden, as well. Hmm…
When a mouse dies in one of the traps, I lay its body on an open patch of ground near the edge of the woods. I hear a barred owl back there around daybreak, thinking that she gets the treat. Or maybe one of the wandering skunks or raccoons does. Or maybe the red fox that showed up once knows about that snack bar. Hard to say.
With the help of Judy's nephew Rick, we've just put up a game camera in the backyard to find out exactly who's getting what. A bobcat showed up on a neighbor's game camera earlier this year. We're hoping to see that, or some other big surprise. After all, there are plenty of critters out there. I see more wildlife here than I do while wandering around in deep woods. Go figure.
No responses yet