Aug 11 2022


Walt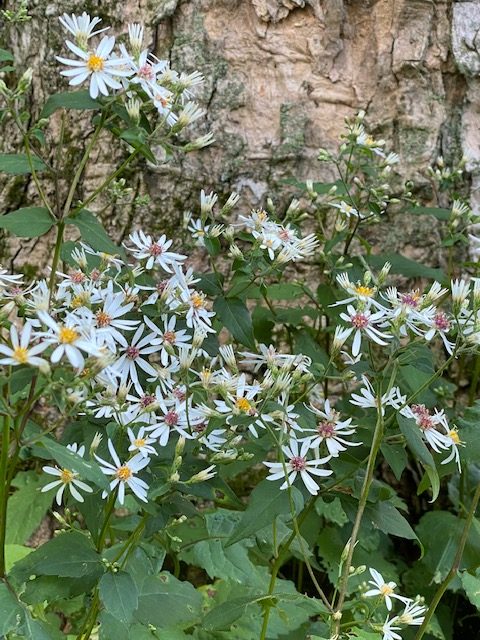 Yesterday I noticed the white wood asters in bloom in my back yard and felt the shock of late summer. Is it really that time of year already? I have just gotten used to running around barefoot, in a t-shirt and shorts. It seems like the warm season idle just began.
Judy and I sat in Taylor Park yesterday, listening to a concert as the sun sank slowly in the west. The air temperature was a perfect 70 degrees and flowers bloomed in the small garden before us while children scurried about. A few hours before that I had lounged in the shade on my patio, feeding a resident chipmunk and watching hummingbirds at the feeders while I read a book. At the start of each day, I open up the house, allowing a gentle summer breeze to waft through our living room. And every day is a good day – even when temps shoot into the 90s, even when it rains. Summertime is a prolonged dream.
Strawberries, a long hike through the shady forest, a dip in a mountain stream, corn on the cob and fresh tomatoes, birdsongs all day long, cotton ball clouds in a blue sky, wildflowers and a leafy green everywhere –– the simple joys of this season just keep coming. Then suddenly there are wood asters, goldenrod, and the shelves of stores are stocked with back-to-school supplies.
Yes, I have noticed the subtle shortening of daylight hours but have chosen to ignore it. Yes, I'm well aware that autumn has its own delights, but I'm not ready to let go of summer just yet. I am still in a summertime frame of mind. And the remaining month of it always feels more precious than the previous two.
The days slip by, the months, the years… I'm at that point in my life where life itself feels precious. I am shocked by the passage of time. Was the last summer camp with our grandkids really five years ago? Has it actually been over a decade since my hike through the 100-Mile Wilderness? Have 40 years gone by since my arrival in Vermont? This all comes as a surprise to me.
Even the long days of summer aren't long enough. Life is short. There's no time to lose.
No responses yet