Mar 21 2023


Walt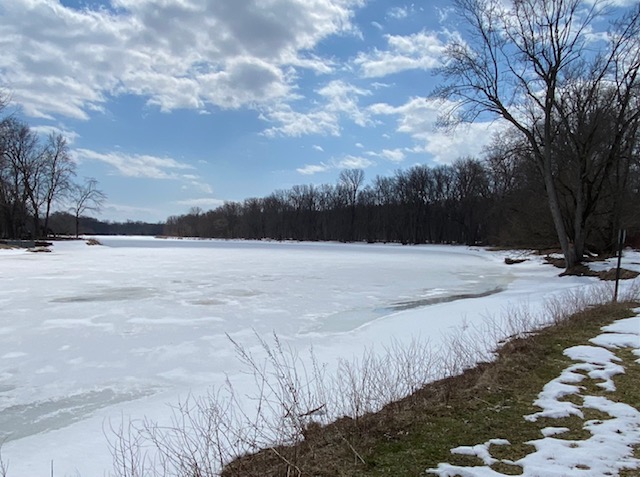 I was wrong. I thought the mildness of winter this year would lead to an early spring, but that hasn't been the case. Here it is the Spring Equinox and there's still a blanket of snow on the ground, along with temps barely above freezing at midday.
Desperate to get out of the house, I go for a walk anyway. Judy suggests that I walk the access road to Mac's Bend in the Missisquoi National Wildlife Refuge. It's not far away. It gets plowed and will probably be clear of snow. She's right. I leave my car in the parking lot just off Route 7 and walk the gravel track, leaving boot prints in the fine crushed stone between puddles of meltwater. This will have to do.
Binoculars dangle from a strap around my neck, but no birds appear. That too is wishful thinking. Naked trees creak in the light breeze. The brown heads of ferns poke above the snow, ready to reproduce as soon as the weather breaks. A bright vernal sun plays peekaboo in a partly cloudy sky, teasing me with its warmth. I tramp down the road, happy enough to be stretching my legs and getting some fresh air. Still I long for the arrival of spring – promised but not yet delivered.
There are long open seams of water in the Missisquoi River that the road hugs, but Mac's Bend is completely iced over for some reason. When the road ends there, I tramp a partly thawed riverside trail until it veers into the snowy woods. Then I turn around. I reach down to feel the cold mud underfoot, genuflecting to seasonal change, telling myself that it won't be long now. But it's not quite spring.
I know the heaviness of winter within me will eventually melt away, along with the snow, and the winged migrators will ultimately return from the south. But that isn't happening yet. So I go back home, back indoors, back to work for a while longer. Patience, patience. The cardinals, robins and other songbirds will be calling me out soon enough.
No responses yet