Feb 12 2019


Walt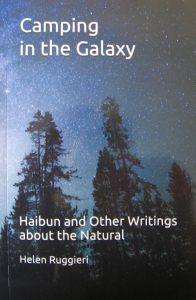 I am pleased to announce the release of Helen Ruggieri's collection of haibun and nature essays, Camping in the Galaxy. Helen and I have been working on this book since last fall, getting it just right. Without a doubt this is one of the best books ever published by my small press, Wood Thrush Books. And it feels good adding a new name to an imprint so cluttered with my own publications.
A couple years ago, I published several of Helen's haibun in a Wood Thrush Books anthology of nature writing. Before she submitted that work to me, I didn't even know what haibun was. But I immediately became a big fan of it – of hers in particular.
Haibun is a literary form that combines a short, dense piece of prose or a prose poem with haiku. It was popularized by the Japanese poet Matsuo Basho in the 17th century. Helen is an award-winning, internationally published haiku poet. But, if you ask me, haibun is what she does best.
Along with haibun, there are a dozen essays and other short prose pieces in this collection that celebrate the natural world while creating a strong sense of place. Helen writes with grace and clarity about the Allegheny bioregion of Western New York, both past and present, as well as her upbringing in Pennsylvania coal country. She also writes about the joy that the landscape elicits when we behold it, the plight of Native Americans and early white settlers alike, Japanese gardens and her own green endeavors, the folklore surrounding Groundhog Day, the charm of old maple trees, and even the mess we often make of the natural world. Helen's words follow her passions, and her passions are diverse.
Camping in the Galaxy is available now at both Amazon.com and the Wood Thrush Books website. Check it out. There's something in this collection for nearly everyone who loves both the landscape and the literary arts.
Comments Off on New Book Release: Camping in the Galaxy