May 09 2020


Walt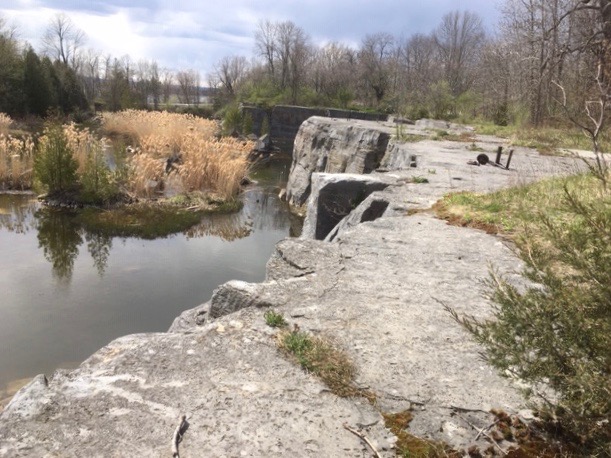 Following the governor's orders during the pandemic, Judy and I went off the beaten path, midweek, midday. We went back to Fisk Quarry on Isle La Motte for a short walk. Six years have passed since we last stopped by. Time flies.
This was Judy's first time seeing the quarry, actually. She stayed in the car during the previous visit, while I raced to the top of the quarry to check out the fossils embedded there. We were on our way somewhere else back then. Can't remember where.
Fisk Quarry Preserve is part of the Chazy Fossil Reef – a National Natural Landmark located on a large island in Lake Champlain. Chazy Reef is one of the oldest exposed reefs in the world, dating back over 400 million years. The fossils of thousands of gastropods, cephalopods and other ancient marine creatures are embedded in its grey rock. Being there is like stepping back in time. Way back.
The last visit inspired me to write the first chapter of my book, A Reluctant Pantheism. The swirl of gastropod fossils reminds me of hurricanes, galaxies and other natural phenomenon, convincing me that such a thing as order exists in nature. How? Why? Some organizing force is at work, no doubt. God or simply the laws of physics? Either way, I drop to one knee in deep reverence.
Judy noticed it, as well – the incredible passage of time that makes one feel so small and inconsequential. Meanwhile, red-winged blackbirds flew overhead, a pair of mallard ducks swam in the quarry, and turtles sunned beneath a partly cloudy sky. All very much alive, like us, and living in the present. Wild strawberry, pussytoes and other wildflowers bloomed, while the first tree leaves slowly unfurled. Life goes on. Hundreds of millions of years later, life still goes on. It's humbling to say the least.
Comments Off on Return to Fisk Quarry