Jul 05 2017


Walt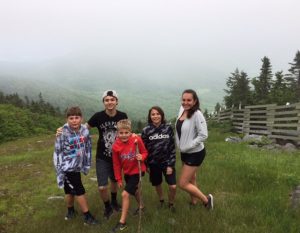 We had to wait before setting foot on the trail. The rain was nonstop for days. And even when it did finally stop, the trail was all wet rock and mud with a stream running down it. No matter. We went up the mountain anyway.
I did my best to coax my grandkids into ignoring the mud and water, making sure they had good footing with each step. But that was a lost cause. They hopped around, trying to keep their shoes clean and dry, falling down in the process. We all have to learn that the hard way, I suppose.
"Are we halfway yet?" the kids kept asking, even though they all had energy to spare. As for me, well, I was huffing and puffing ten minutes out the gate, and reduced to a steady creep by the time they found a comfortable pace. The eldest boy Hunter was out front with orders to halt the group whenever they lost sight of me. That happened frequently.
They thought it was pretty cool when the broadleaf trees became conifers, and when the trail became steep and rocky. Reaching a ski path, I told them they could either take the easy route up that path or continue following the white blazes straight ahead. The blazes marked a steeper, even rockier ascent through stunted spruce. They charged up that section of trail without hesitation.
By the time we reached the summit, we were in the clouds. No view for all our hard work. But they thought hiking into the clouds was pretty cool, too. We stayed on the summit long enough to drink water and eat our energy bars. Then we ducked into the nearby building to warm up. That's when we started missing Grandma. She could have taken the gondola up to meet us.
I think it was Maddie who noticed how dark the woods were when we left the open ski slope. Our descent after that was arduous, thanks to slippery mud and rock. All the same, everyone was glad to have done the hike when we finished. At 3,800 feet, Jay Peak was the biggest mountain any of them had ever climbed.
On the way down, there was some talk about climbing other big mountains in Vermont. But I think next year we'll hike something with Grandma instead. It was a great hike, but she was definitely missed.
Comments Off on Grandkids Climb Jay Peak