Oct 30 2019


Walt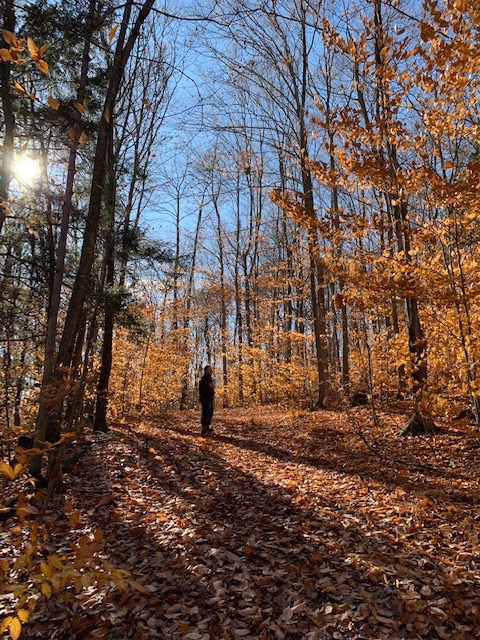 With the sun shining brightly and temps approaching 60 degrees, I decided it was time for a walk in the woods. Now that she's retired and her time is her own, Judy asked if I'd mind her coming along. I told her I certainly wouldn't mind. In fact, I was thinking to going to the Saint Albans Town Forest, which would be a perfect fall walk for us to do together. After all, it's short, easy and she hadn't been there before.
We reached the trailhead early in the afternoon, after Judy had done some work on the end-of-life doula class she was teaching, and after I had done a round of writing and a little work on my book biz. With all that out of the way, we both felt free to take our time. So that's what we did, meandering along the trail, stopping frequently and hardly breaking a sweat. "Forest bathing" Judy called it in reference to the recent fad. We both found that humorous. We've been grooving on nature for decades, long before it became the therapeutic thing to do.
We kicked up a lot of leaves as we walked, now that most of them are on the ground. Evergreen wood ferns, moss and a copse of hemlocks still shouted their greenness into the world, but most of the forest around us was gold, burnt orange and various shades of brown and grey. It's that time of year, after all – a time when hunters are ready to chase down deer, geese are heading south, and the days are noticeably shorter.
There is something both beautiful and melancholy about the long shadows of autumn on a pleasant afternoon in the forest. The earthy smell of drying leaves is intoxicating, and their color is still dazzling when the light catches them just right, even this late in the season. That said, we all know what comes next. For those of us living this far north who love to watch things grow, that means waiting another four or five months for the growing to begin all over again. Yet the cycle itself – this endless parade of seasons – speaks volumes about the passage of time and our place in it, doesn't it? That too is beautiful.