Sep 13 2012


Walt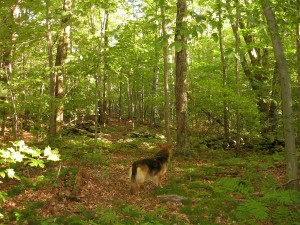 Too restless to sit down and focus on any literary work this morning, I went to French Hill with my dog Matika. I felt guilty about not working as I slipped into the woods, which is a little odd when you think about it. How else is an outdoor/nature writer supposed to gather his or her material?
A few minutes into the woods I was fine, though. The forest doesn't give a damn about creative output. And when I'm wandering through it, neither do I.
After thrashing through a tangle of brambles covering what used to be a logging road, Matika and I broke into the relatively open forest. A deer path took us to a familiar gap in the old stone wall. From there it was an easy walk along the semblance of a trail, so I started daydreaming.
Soon I found a place to sit down and groove on the woody surroundings. The sound of leaves rustling in the gentle breeze cleared my mind of all thought. Then I was hypnotized by early morning light breaking through the green canopy. The shadows of trees danced across the forest floor. Time passed.
When finally I snapped out of my reverie, I got up and hiked out at a good clip, completing an unintentional circumnavigation of a largely unseen beaver pond. I picked up a turkey feather along the way and held it as if it were a quill pen. Then my brain kicked into gear and I started working.
The boundary between grooving on the wild and writing about it is vague indeed. Sometimes I slip back and forth over that frontier as if there's no real difference between mind and matter. Sometimes I wonder if there is.
Comments Off on Early Morning Bushwhack