Dec 04 2017


Walt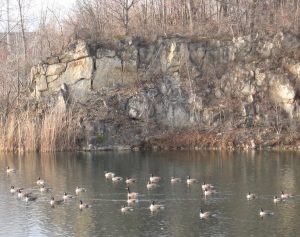 A couple weeks ago I noticed that about fifty Canada geese had taken up temporary residence in a nearby quarry. Last week I saw them there again, only their numbers had increased to well over a hundred. Yesterday they were still floating on those placid waters, but this time I counted two hundred of them. What's up with that? Why haven't they all gone south by now?
Oh sure, the first two snowfalls of the year didn't amount to much and they melted off quickly, but it's December for chrissakes. No matter how mild a winter it's going to be, northern Vermont is not far enough south for them. Or is it?
I am inclined to seriously question this notion we have of instinct. If wild creatures blindly follow instinct, then why aren't these geese hundreds of miles south of here? Do they have enough intelligence to make a serious error in judgement?
There is another possibility of course. The birds might know something that we don't, although the word "know" might not be the best way to explain what's going on here. We're the knowing ones – Homo sapiens and all that. Their relationship to the natural world is quite different from ours. So then… who's making the serious error in judgement here, them or us?
I watched the geese for a while, admiring their wild beauty. They were smart enough to keep a good distance away from me even though I posed no real threat to them. I'm still expecting winter to strike with a vengeance soon. I hope these waterfowl are gone by then. Whether they depart or not, they have already given me much food for thought. Perhaps I will soon know what's going on.
Comments Off on Geese Lingering