Mar 26 2012


Walt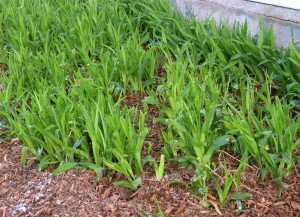 Here in northern Vermont, we awoke to a dusting of snow today. It is ever so slight and will burn off by mid-morning, no doubt. Yet it comes as something of a shock to us after a week of summerlike temperatures.
I go out and check the bright green shoots of my day lilies to see how they are doing. The warmth from the plants has already melted the snow clinging to their leaves, so my lilies take it as a watering. Had the temperature dropped a little lower overnight, there might have been a little browning along the edges and tips of them. All the same, they would have survived – if not this wave of green shoots then certainly the next one. Lilies, as delicate as they may seem, are hard to kill.
I marvel at the resilience of early spring flora and fauna. If a little misfortune comes their way after the promise of an easy start to the season, they bounce right back. Oh sure, they take a hit, and some individual plants and animals are hit hard, but collectively they survive. In fact, setbacks are expected. They are built to withstand them. I admire that.
The other day my sewer line broke. Suddenly the nasty stuff was ankle deep in my basement, my yard had to be dug up, and I had to shell out a hefty sum to have the pipe replaced. A hit, no doubt, but I'm trying to take it like a day lily. Life is full of setbacks, I tell myself. The big question is: how well do we weather them?
Some hits are so hard there is no quick and easy recovery. That's what we are alluding to when we use words like "crisis" or "disaster." The word "apocalypse" means there is no recovery at all. Yet Nature with a capital "N" persists even when a meteor hits the planet, taking out the dinosaurs. It's all just a matter of degree, I suppose, of individual perspective.
I wish I were more resilient. I take my setbacks hard. That said, I watch carefully how everything comes back to life in the spring and am deeply impressed by it. No, not just impressed – I'm inspired. Nature says there is no such thing as a hopeless situation and, even in my darkest moments, I'm inclined to believe it.
Comments Off on Resilience