May 12 2010


Walt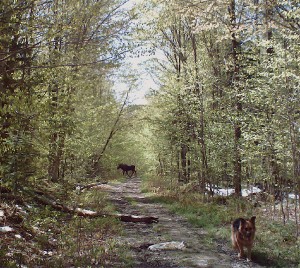 Yesterday my dog, Matika, and I headed for the mountains, taking full advantage of springtime sunshine.  A hard frost covered everything at dawn, but temps had reached into the fifties by the time we reached the trailhead.  I shouldered my rucksack and charged up the trail, ready for a good workout.  Matika kept a few yards ahead of me most of the time, occasionally bolting after an unsuspecting chipmunk.  Yeah, Matika is fixated on chipmunks.  And nothing I say can change her mind.
It felt great being back in the mountains again.  Over breakfast, I'd read an article about that big oil spill in the Gulf of Mexico so my stomach was in knots.  I know better than to let morning news get to me that way, but I just couldn't help myself.  There are so many things wrong about that disaster and how it's playing out that I go nuts thinking about it.  Why did we let this happen?  Why can't we come up with a better solution to our energy woes than drilling a mile deep into the ocean?  Anyway, it was good being back in the mountains, breaking a sweat and breathing fresh air, with no one else around.  I reveled in it.
A mile and a half into the hike, I reached a point on the trail that felt to me like the edge of spring.  By then I'd climbed to about fifteen hundred feet so the canopy overhead had thinned considerably.  A few patches of snow, left over from a recent storm, underscored the transition.  I pulled out my camera to snap a picture of the scene.  While I was doing that, a moose strolled leisurely across the trail.  It even stopped a moment to check out my dog and me before stepping back into the brush.  Matika was looking the other way, fixated on chipmunks.  I called for her to look around.  By the time she did, the moose was gone.
My dog isn't stupid, nor is she a stranger to the forest.  It's just that she doesn't always pay attention to her surroundings.  She often gets fixated on chipmunks and squirrels, thereby missing larger quarry.  In that regard, she reminds me of some people I know.  "Drill! Drill! Drill!" they say, and there's no getting them to seriously consider any other alternatives, let alone the consequences.
Matika missed the moose but I didn't.  After years of not seeing one, it felt good to stand eyeball-to-eyeball with ol' Bullwinkle again.  And I'm glad I got a picture of it.  Now I have proof.  To this day, there are still people who think that moose are rare in the Vermont woods.  But they're all over the place.   Look down the next time you're hiking in the Green Mountains and chances are good that you'll see their tracks pressed deeply into the trail.  All you have to know is what a moose track looks like.  Then pay attention.
Comments Off on Matika Misses the Moose