Dec 08 2020


Walt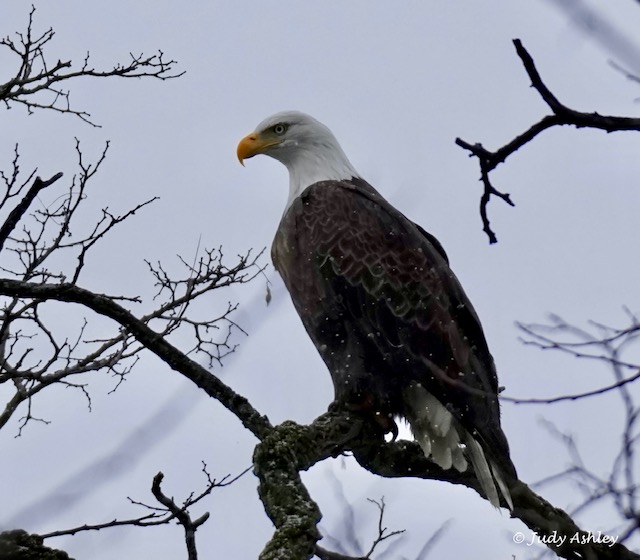 Judy is going deeper into birding. She has recently picked up several books on bird behavior and has spent the better part of the past few days reading about them. So I wasn't surprised when she told me that she wanted to go to Lake Carmi because people from an online birding group had spotted bald eagles there. But a light snow was falling yesterday as we were getting ready to leave the house. I thought for sure she'd change her mind.
We ate our lunch in the car while parked at the Lake Carmi State Park day use area. That's when we saw several bald eagles flying over the lake a good distance away. Shortly thereafter, while walking a nature trail around a nearby field, we spotted another one overhead, silhouetted against the grey sky. Judy wasn't able to get a good shot of it, though. We wandered about the day use area a bit more, chilled by a steady wind out of the north before retreating to the car.
Now what? Judy suggested that we drive the road running along the northern edge of the lake. We did just that but spotted only a few songbirds in the process. Then I suggested that we drive the access roads to private camps along the west shore of the lake. It was a long shot, but we had the time so why not?
Most of the camps were closed for the season. A thin layer of snow covered the dirt road. Judy scanned the trees along the lake's edge as we puttered along slowly. "There's one," she exclaimed, "Stop the car!" I did just that. Then Judy stepped out with her camera, shooting at a bald eagle resting on a branch. But the grand old bird was annoyed by my shutterbug wife so it flew away.
We sighted that eagle again a short while later. Judy stepped into the cold for a few more shots. That's when I told her she was hardcore. Then I laughed. But I was right there with her, binoculars in hand. Such a funny pastime birding is. An endless hunt. So many different kinds of birds in all kinds of habitats. So much to learn.
Comments Off on Eagles at Lake Carmi