Sep 16 2016


Walt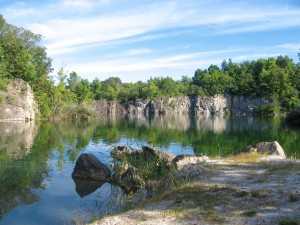 Judy and I didn't actually see the quarry until our house was well under construction. We had heard about it before our builder even broke ground back in February, but we didn't think it was that big a deal. We were mistaken.
The folks who own the quarry kept telling us that we should check it out. When finally we got around to doing that, we were pretty impressed. It is much bigger and more beautiful than expected, with a shallow end that's ideal for launching boats. We were encouraged to use the quarry so, when the grandkids came to visit shortly after we moved into our new house, that's what we did. They loved it, of course. They kayaked, swam and fished there on several occasions. I think they would have camped out there if we had let them.
In the middle of the summer, I went swimming there for the first time. My dog Matika accompanied me. The hot sun warmed the surface, but a few feet down the water was cold. Another pleasant surprise.
A few weeks later Judy and I kayaked the quarry at sundown, breaking the glassy surface of the water with our paddles while making long, lazy circles upon it. A kingfisher called out then swooped low over the water. Then all was quiet. That's when we realized just how charming the place really is.
It's only half a mile away from our house. We go past the quarry while walking a two-mile loop around the area. The owners have told us repeatedly that we can use it any time, and I suppose we will in the years to come. But it still doesn't quite feel real to us. It's like having a small park steps from one's door. More than we bargained for when we moved here, that's for sure.
Comments Off on The Quarry