Nov 06 2020


Walt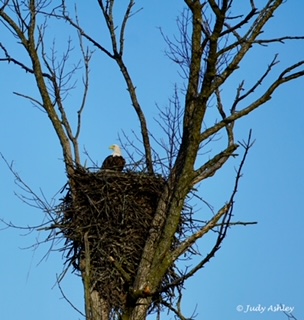 Yesterday Judy and I drove down to the Dead Creek Wildlife Management Area in Addison County, hoping to see some migrating snow geese and photograph them. Judy had been following reports of them showing up there by the thousands. We were excited about the prospect.
Upon arriving at the viewing area, we saw about fifty snow geese half a mile away. Moving over to Gage Road, just south of the Management Area, we spotted a couple dozen more half-hidden in a farmer's field a quarter mile away. We saw some Canada geese, as well. Then we caught a rough-legged hawk flying overhead. That was a pleasant surprise. Still Judy had no good shots of geese.
Undaunted, we headed north along a country road running parallel to both Route 7 and Dead Creek. Nothing. No more geese. So we crossed Otter Creek in Vergennes and continued north to Kingsland Bay and the Little Otter Creek WMA. No geese there, either, though we watched a great blue heron catch fish for a while. Judy got some good shots of that.
Resigned to the fact that we were on a wild goose chase, we hopped back in the car and headed home. Yesterday was an unseasonably warm, pleasant day in November, and it was good just getting out of the house. But no sooner had we crossed over a bridge spanning the creek, I saw a huge nest in the trees right next to the road. Surprisingly enough, the nest was occupied. It was a bald eagle!
Judy got a good shot of the eagle right before it flew away. I followed that magnificent bird with my binoculars as long as I could. Until this sighting, I had seen plenty of bald eagles elsewhere but never in Vermont. What a treat! Nature is funny that way. You never know what it's going to throw at you.
Comments Off on A Wild Goose Chase