Oct 27 2011


Walt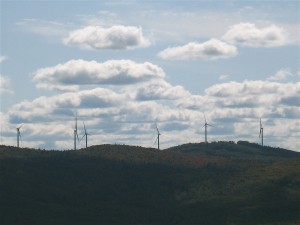 Critics here in Vermont say that the huge wind turbines atop our beloved Green Mountains are not just an eyesore, they kill birds and disrupt the forest ecology as well. Solar power is viable as long as the sun is shining, but it's expensive, isn't it? Biofuels threaten our food supply. Hydro power screws up our streams. Coal and oil are both dirty, of course. Natural gas is clean, as fossil fuels go, but fracking pollutes the ground water. Nuclear power is both clean and cheap… until the plants leak and it's time to shut them down. Burning wood is great until you run out of trees. So what does that leave? Tidal power? Hydrogen? Cold fusion?
Have to get our power from somewhere. There are seven billion people on the planet and counting. The demand for power is growing much faster in industrializing countries like India and China than it is in the highly consumptive West. In the near future, humanity will need more power, not less. So where are we going to get it?
Climate change is the sword of Damocles hanging over us. The more we mess with Mother Nature, the more she messes with us. It's just a matter of time before all hell breaks loose. Can we avoid global catastrophe? Collectively we seem to lack the political will to do so. Besides, denial runs strong and deep among those who immediately benefit from the status quo, and they cast just enough doubt on the subject to keep the rest of us complacent.  More to the point, it's hard for the average person to think beyond what he or she is paying at the gas pump.
So what are we to do? Gnash our teeth and say we're all doomed? Protest our least favorite energy source? Blame those whose economies are stronger than ours? Simply ignore the situation?
Clearly we have plenty of choices, there's just no perfect solution. The big question is this: Do we have moral courage enough to make the best possible choices for our great grandchildren? I'll leave that for you to ponder, dear reader, and keep my cynicism to myself.