May 07 2012


Walt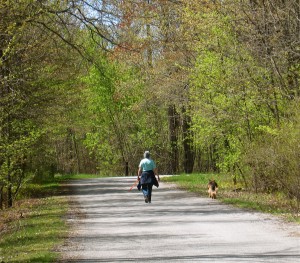 Every once in a great while, Judy and I make a trip to North Hero. We go late in the fall when last color is fading, or early in the spring when the trees are just starting to leaf out. We think North Hero and the other islands in Lake Champlain are prettiest at those times.
I like state parks during the off-season when they have been abandoned by summer folk and the signs scattered around them have become largely irrelevant. In fact, I rarely visit them otherwise. I've never been to North Hero State Park when it's officially open and can only imagine it during high season. I'm sure its a busy place.
Judy and I walked the narrow, paved road winding through the park, past the primitive camping area, all the way to a small gravel beach. Judy used a bright orange "chuck-it" device to whip a tennis ball down the road for Matika. That gave our dog a little extra exercise. Occasionally Judy stopped chucking the ball so that Matika could catch her breath. Matika doesn't know the meaning of the word "moderation."
Upon reaching the small gravel beach, we donned our jackets. A steady wind blew across water still cold from spring runoff. Lake Champlain is deep. At its lower depths, it holds a winter chill well into summer.
During the walk back to the park entrance where we left our car, we passed under a stand of poplar trees. Their leaves fluttered in a gust of wind like thousands of tiny green flags. The rushing sound of them washed through us, dispelling the last of winter.
A pileated woodpecker surprised us with its loud cry. We looked for it among the naked branches overhead but the large bird remained hidden somehow. A woodchuck showed itself briefly before ducking beneath a lean-to. Matika caught its scent a few seconds too late to do anything about it.
There are times when I desperately need the tonic of deep woods. But on a cool, sunny day in May, with Judy by my side and my dog happily running about, a short excursion into a semi-wild area suits me just fine. Yeah, state parks have their charms. Not every outing has to be an adventure.
Comments Off on A Trip to North Hero