Nov 08 2019


Walt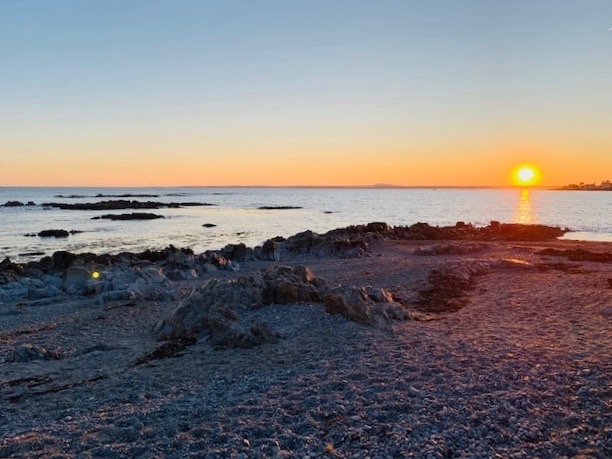 Taking advantage of a two-day, off-season special at a hotel appropriately called The Seaside, Judy and I escaped the leafless landscape of Vermont for the late-season foliage and slightly warmer temps of the Maine coast. As far as Judy is concerned, it's all about the water, of course – her passion for the ocean matching mine for wild forests.
We arrived on the coast in a driving rain at dusk so we simply went out to dinner then settled into our hotel room for the night. But we stepped out on the beach first thing in the morning, before breakfast. By then the rain had passed, leaving the rising sun all by itself in a calm, clear blue sky. Light jackets were all we needed to keep the early morning chill at bay. We walked the length of Kennebunk Beach, taking in the sight and sound of waves breaking gently to shore, between encounters with a few dogs and their owners. We collected pieces of sea glass as we meandered along, deeply inhaled the salty air, and basked in the negative ions emitted by the sea.
During the middle of the day we did a lot of nothing – window shopping, a nap, another meal, a little cafe sitting. When the sun sunk towards the western horizon, we went back out to walk the shoreline again, enjoying the play of light over water, rock and sand, happy enough to keep things simple.
The next morning we went out for one last oceanside walk before checking out of the hotel and driving back to Vermont. With temps in the 30s, we were bundled up. Still ours was a pleasant, late autumn stroll along the beach. What a shock it was, then, to return home later that evening and find two inches of snow on the ground. From one season to another in the same day. Good thing we got away when we did.