Jun 15 2023


Walt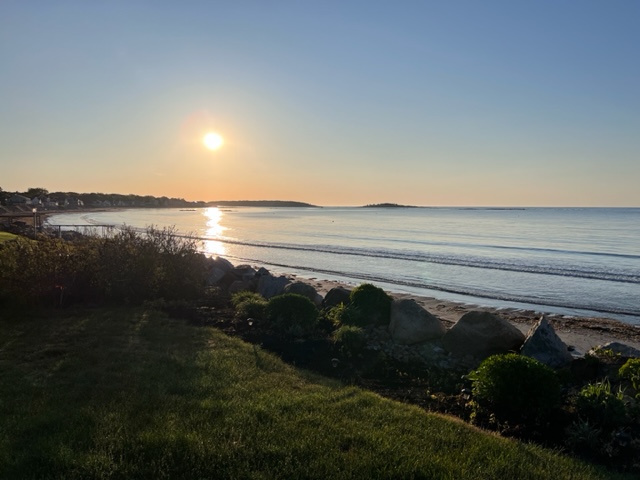 Nearly three weeks have gone by since Judy and I sojourned briefly on the Maine coast in a little cottage overlooking Goose Rocks Beach. I can still hear, someplace in the back of my head, the sound of waves breaking to shore. After listening to that steady beat for days, it is not something one easily forgets.
Judy is drawn to the ocean the same way that I am to wild, forested mountains. We have been going to the coast for decades, usually staying in a hotel, motel, or someplace located somewhere inland. But last year Judy had a dream come true when she found a somewhat affordable place right on the shoreline, literally a stone's throw from the sea at high tide. She spent two ecstatic weeks alone there while I was traveling across the country.
This year I joined her for a week in that cottage, enjoying the sparsely populated beach in the cool, breezy days before Memorial Day – before the onslaught of the summer crowd. It was quite the experience. There's a world of difference between staying in a place close to shore and being right on it. No wonder the cost of oceanside property is so high!
I noticed the rhythm of the sea most when I ventured inland on day hikes. Or I should say that I noticed it when I returned to the cottage, where Judy was ensconced in the enclosed porch with windows partially open. The calming effect of waves coming to shore, along with the cadence set by the high and low tides, does something to the mind that is indescribable. It's similar to what I experience when I'm alone in deep woods for a few days. While immersed in either world, all the concerns that dog me during my workaday existence here at home don't matter nearly so much. The waves slowly wash all that away, just like the deep forest silence does.
I am a landlubber at heart. I'm more comfortable in the woods, camped next to a clear mountain stream, than anywhere else. Still, I look forward to spending another week right on the shoreline next year. In that regard, Judy's dream has become my own.
Comments Off on The Rhythm of the Sea