Jul 23 2017


Walt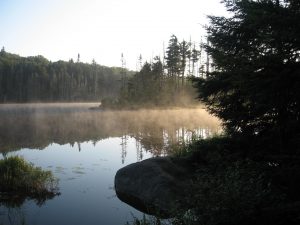 After driving in out of downpours for 4 hours, then making my way up several miles of partially flooded dirt road, I parked my car at a trailhead and started hiking into the West Canada Lakes Wilderness. My dog Matika was right behind me, just as happy as I was to be slipping into the wild despite a light rain falling.
The rain stopped halfway to Pillsbury Lake but the trail was a stream by then and the forest was soaked. A rumbling in the distance. Hmm… Sounded like another storm approaching. We rolled into the shelter at Pillsbury Lake right before the next big downpour. Surprisingly enough, Matika and I had the place all to ourselves that night. So I strung a line inside the shelter and dried out my wet clothes and gear.
The next day was a different story: mist in the morning burning off to a warm, sunny day. Buggy, yes, but a nice day all the same. I looked around for a good place to camp but didn't find one. So I spent a second night in the shelter. Again, no one came along.
The idea was to stay put instead of pounding trail, to hang out by a lake for 5-6 days, groove on the wild, and record my thoughts in a journal. That's exactly what I did. On the third day, Matika and I grew a little restless so we went for a day hike to another lake in the area. That took a few hours. But for the most part we just sat. And we had Pillsbury Lake all to ourselves for a third night.
On day four, I was feeling pretty crunchy. Staying put had mellowed me right out. Ditto Matika. Chipmunks, sparrows, butterflies, and other critters started overrunning the camp. Neither one of us did much about it. Meanwhile, I just kept on scribbling in my journal.
At dusk when I went to put out my campfire and go to bed, I thought I had the place all to myself for a 4th night. But a pair of hikers came along an hour or so later. They were nice enough fellows. Still their sudden appearance broke the spell of my deep woods solitude. There would be more hikers on the way, no doubt, with the weekend fast approaching. So the next day Matika and I hiked out.
It's hard to say what value the words I wrote in my journal have, or what exactly happened to me while I was out there, but I returned home incredibly relaxed, lighthearted and happy. My wife Judy found that amusing – so amusing that she waited a day before trying to have a serious conversation with me about anything. She saw the wild in my eyes. Hard to miss, I'm sure. Yeah, I went deep this time.
Comments Off on Adirondack Retreat