Aug 16 2016


Walt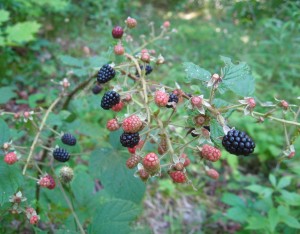 It's late summer and the blackberries are ripening. A few steps from our new house they grow wild. I discovered them a few weeks ago.
They grow along the pathways between our house and the nearby quarry – a good place for a short walk. Wide pathways riddle the local woods. And where sunlight strikes, blackberry bushes magically appear.
From green to red these berries ripen. When they get that deep purplish hue, they're ready to be picked. I can hardly resist. Their plumpness is alluring. Pop a couple in your mouth and you know what happiness tastes like. Sweet, yes, but with a zing to them that all wild fruit seems to have.
My wife Judy has gone through several pints of them. She went a-picking with me once but is happy enough just eating them at home. I, on the other hand, like picking blackberries more than eating them. It feeds my compulsion.
Don't get me wrong. I eat plenty of blackberries as I pick them, popping one in my mouth for every two or three that goes in my container. That seems like a good ratio.
Between picking and eating, I grow lighthearted, almost giddy. Wearing only shorts, t-shirt and flip-flops, I am scratched by the thorny blackberry bushes and take plenty of bug bites, but I don't care. I sweat in the sunlight breaking into the humid woods, but I don't care. Picking becomes my raison d'être. I pick therefore I am.
Picking and eating, picking and eating… It's a simple countryside pleasure that keeps me connected to the earth, making me glad to be alive. The world is going to hell in a hand basket, or so I hear. But while I'm a-picking, none of that matters.
Comments Off on Wild Blackberries