Oct 14 2015


Walt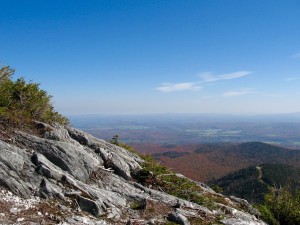 Having the freedom to take time to play is one of the big advantages of being self-employed. But I work harder for myself than I ever would for anyone else. I don't stop and play enough. That said, Monday was too nice a day to stay indoors, staring at a computer screen. So I grabbed my pack and headed for the hills.
Once again, I drove to the Jay Peak trailhead. Not my favorite mountain, because of its ski trails, but the drive to it is short. Besides, it's a relatively easy climb. I'm out of shape, thanks to excessive computer time recently, so I thought it best to make the day's hike a short one.
My dog Matika leapt out of the car all smiles. She's been cooped up a lot lately, thanks to my relentless work schedule. She ran up the trail, setting a rigorous pace for me. Soon I was shouting for her to wait so that I could catch my breath. With low humidity and temps in the sixties, I was sweating very little. All the same, the elevation change was doing a number on me.
We broke above the treeline towards the top. The trail became rocky. I admired the view: blue sky overhead and the landscape below ablaze with autumnal color. That's when I promised myself that I would get out more.
A quick lunch on top then Matika and I descended. At my age, going downhill is the hard part. All my joints below the waist were aching by the time I got back to the car. Still it was good getting out. Back to work yesterday and today, I've been much more productive as a consequence of the outing. Yeah, there's really no excuse for working all the time – no excuse at all.
Comments Off on Climbing Jay