Oct 13 2010


Walt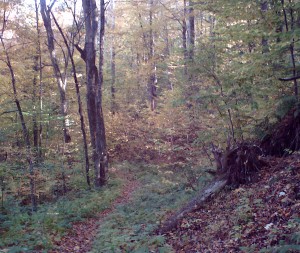 After dropping off my wife Judy at her friend Gina's house in Stowe, I drove to a nearby trailhead.  I would hike in a mile or so, sit by a brook and scribble my thoughts in a journal for a while, then hike back out.  We'd all meet at a cafe a few hours later.  That was the plan, anyhow.
I passed a dozen other hikers on the trail during the first mile.  Had to collar Matika several times to keep her from bullying other dogs.  Not fun.  But the crowd dissipated during the second mile.  By then I was hitting my stride.  The day couldn't have been better for hiking: cool, crisp and sunny with nary a bug in sight.  So I kept going.
By mile three, I had stripped down to a t-shirt despite the cool temps and was plowing through a green and gold forest that seemed to go on forever.  I conferred with Matika and she agreed that we should keep going.  Why stop now?  The dryleaf smell of high autumn urged me onward and upward.  The road-grade climb was easy enough, and the dull ache in my legs felt good.  I could always sit and write at home later when it was cold, rainy and overcast.  No doubt those days lie somewhere ahead.
The fourth mile slipped away.  By the time I hit mile five, I realized that I was committed to doing the entire eight-mile loop.  Fine by me.  I was hiking now just to do it, just to move, breathe heavily and sweat on a beautiful day.  I was hiking for the sheer joy of it.  Say what you will about the ever-elusive nature of happiness, about how hard it is to stay upbeat in a world like ours.  But for one long afternoon on a leaf-covered trail cutting through the Green Mountains, with birches, beeches and maples dazzling me with their autumnal displays, I was as happy as anyone dares to be.  Hell, I didn't even mind the phone call that came from my concerned wife, right before I exited the woods.
That evening, my dog sprawled across the living room floor unmoved and I popped ibuprofen while Judy recounted the pleasant hours that she and Gina spent at the arts and crafts fair.  I was happy for her.  But there was no doubt in my mind that Matika and I got the better end of the deal.
No responses yet