Dec 15 2021


Walt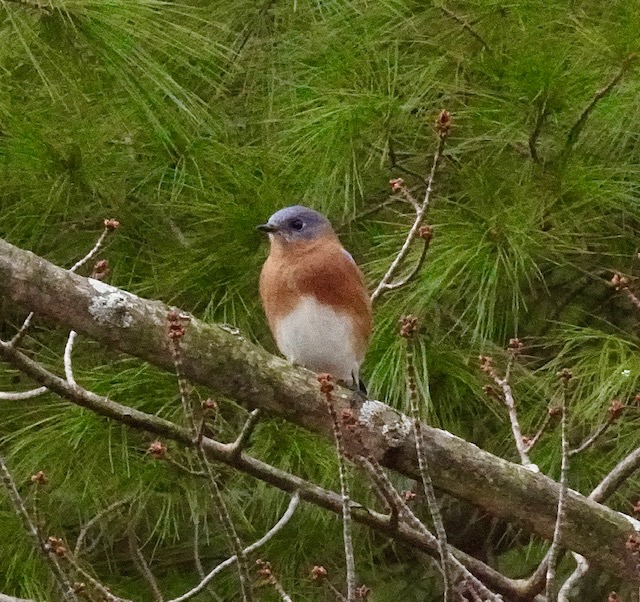 During a short spell of relatively warm, sunny days, Judy and I went birding. We went birding just to get out of the house. We first stopped at Shelburne Bay, where various waterfowl had been spotted recently. We saw mergansers and buffleheads there, but they were too far away for Judy to take good photos. So we walked the LaPlatte River Trail next, instead of lingering along the lake's edge waiting for ducks to draw nearer.
The trail following the LaPlatte River was muddy, but we had donned hiking boots before leaving the house in anticipation of that. We took our time, moving ever so slowly over waterlogged boards.
When I first saw movement through the trees, I assumed that the fast-moving, airborne creatures were robins. They turned out to be eastern bluebirds – half a dozen of them passing through. A pair perched temporarily on power lines not far away, making it easy for me to identify them with my binoculars. Incredible! This time of year? A few moments later, one landed on a nearby tree branch, giving Judy an opportunity to snap shots of it.
Bluebirds of happiness. Just what we needed. Deep into the second year of a pandemic, with all kinds of depressing news both locally and worldwide, and one week shy of the darkest day of the year, a little happiness goes along way.
In Russian fairy tales, the bluebird is a symbol of hope. In Navajo culture, it's associated with the rising sun just as it is in ancient Chinese myths. The bluebird of happiness dates back to the Middle Ages in European folklore – a tale retold by Madame D'Aulnoy in L'Oiseau Bleu. Yeah, the upbeat symbolism of bluebirds is nearly universal. How lucky were we to spot them?
We went to Delta Park after that, catching a brief glimpse of a wren in the dense underbrush along the lake's shore. Judy didn't even have time to raise her camera for that one. No matter. The clouds had cleared out by then, exposing a perfectly blue sky an hour before dusk. We went home happy. Sometimes it doesn't take much to feel that way.
Comments Off on Bluebirds of Happiness