Nov 18 2010


Walt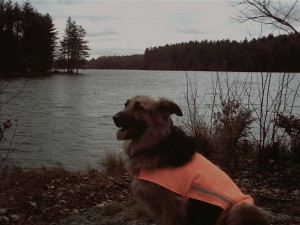 After running errands in Burlington, I went to Indian Brook Reservoir to exercise my dog and stretch my legs.  It was already late afternoon by the time I reached the trailhead.  The dark gray sky overhead made it seem even later in the day than it was.  No matter.  With less than an hour of light left, Matika and I headed down the trail.
Deer hunting season is in full swing now.  My wife had insisted that I take blaze orange with me, at least for the dog.  Good thing I did.  Without it I wouldn't have risked taking Matika into those twilight woods.  Should have had some blaze orange on myself as well.   I made my dog stay close at hand, more for my protection than for hers.
Mine was the only car in the parking lot.  Matika and I were the only creatures afoot – the only visible ones, anyhow.  A rare thing, indeed, on an otherwise busy trail.  I reveled in this unexpected solitude, until the last bit of daylight piercing through the clouds faded away.  That's when I started thinking I should get back to the car.  By then Matika and I were a mile into the woods.
With the air temperature well above 50 degrees, it felt more like September than November.  But the defoliated trees and the shortness of the day told the real story.  Everywhere I looked: stark and uninviting woods.  The slippery mud underfoot made for slow going.  By the time I reached the feeder stream at the far end of the reservoir, the forest was dark.
Having hiked this trail many times before, I navigated it more by memory than sight.  That's the big advantage of experience.  You come to know what to expect.  Without even seeing them, I knew where all the treacherous spots in that trail were.  I also knew that hurrying out of the dark forest would only increase my chances of falling down, so I took my time.  And I can honestly say that I thoroughly enjoyed the rest of the walk.  Life's better when it has an edge to it.  Just a little, that is.  Just enough to vanquish petty concerns.
Daylight had completely vanished by the time my dog and I reached the parking lot.  Matika didn't care and neither did I.  We were both happy to have hiked while we could.  We shared the liter of water that I had on hand, then climbed into the car.  I drove home by headlights, making sure to call my wife so that she wouldn't worry.  Next time I'll make sure to hike earlier in the day.  But darkness often comes sooner than expected this time of year.  Whatever.  I take my small pleasures when I can.
No responses yet