Nov 26 2010


Walt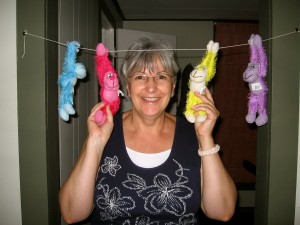 At Thanksgiving we give thanks for what we cherish most – family, friends, home, health, etc. – but I can narrow my ever-growing list down to just one item: Judy A. Ashley.  Even on the day I met her, I knew she was a remarkable woman.  But there was no way, back then, for a self-absorbed guy like me to fathom just how great a role she would come to play in my life.  Now, twenty-five years later, she is the absolute center of my universe.
I am embarrassed to admit this for two reasons.  First and foremost, I like to think of myself as a fiercely independent creature that wanders regularly through the woods, solitary and pensive.  And that's what I am to a large extent.  But I always return home to her.  Always.
Secondly, I never give her enough credit.  Dare I say it?  – I take her for granted, as if she will always be there.  As if my life would be pretty much the same without her.  As if she could be replaced.  None of this could be farther from the truth.
Yeah, yeah, yeah, behind every man and all that.  It's a tired cliche, no doubt.  But in my case is just happens to be true.  As a writer and thinker I have flowered under her cultivation.  As a human being, I have discovered aspects of myself that I didn't even know existed.  And all because of her love, patience, and tireless support.  Giving thanks once a year for having her in my life?  I should do it every day.
Those who know Judy know what I'm talking about here.  Intelligence is common enough, so it compassion, but in Judy we find these qualities matched by an unsinkable good humor that makes even the darkest days more bearable.  Time and again I have seen her leave her mark – not just among family and friends, but in the greater community as well.  We are lucky to have her, and that is why her upcoming birthday, the big six-o, is cause for all of us to celebrate.
Thank god for Judy!
No responses yet