Jan 19 2012


Walt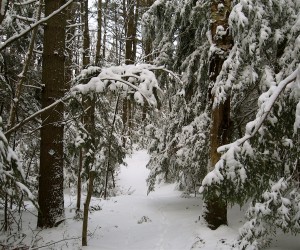 A change in weather over the weekend reminded me that it gets cold here in Vermont – wicked cold. Temps dropped below zero, and my enthusiasm for a long-awaited hike on my day off dropped with it.
I awoke Monday morning to single digits. Warmer, but not warm. So I puttered about the house while the mercury climbed. By late morning it was 10 degrees Fahrenheit. Hmm… that would have to do. I put on four layers of wools and thermals beneath my shell and went out.
A town forest twenty minutes from home seemed like the place to go. I wasn't in the mood to drive any farther than that. Commuting to work every day does that to you.
Told Judy before leaving the house that I'd be glad to be in the woods once I was there. That was true but the chill that came when I broke a sweat kept me from lingering. I walked about an hour through the forest, cutting tracks through several inches of fresh snow, then called it quits. Outside just long enough for my beard to ice over. No more.
My dog Matika would have stayed out longer. Tracks of deer, squirrel, field mouse, you name it – there was plenty to sniff. She ran back and forth through the snow like she was born to it. Yeah, she has a heavy winter coat as most long haired German shepherds do.
Had the place all to myself for an hour. That was nice. Enjoyed the way the sun broke through the trees when the clouds opened up, and the way the snow clung to the boughs of conifers when they didn't. But it was just a tad too cold to reflect upon the wonders of wild nature any more than that.
Fixed cup of hot chocolate as soon as I got home, then thawed out. It wasn't enough of a hike to blow away all my stinky, mid-winter thoughts, but it would have to do. For now, that is. Next time I have a day off from work and temps rise into the twenties, I'll go out for a much longer walk.  No doubt Matika will be ready to roll when I do.
No responses yet