Mar 12 2012


Walt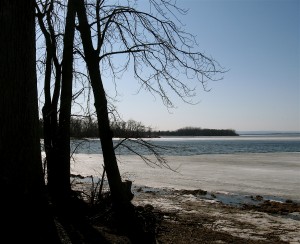 With the sun shining through a cloudless sky and temps climbing into the 40s, Judy suggested that we go for a short walk along the shoreline at Kill Kare State Park. I agreed that we should get out and do something. I was exhausted from working all week while harboring some kind of respiratory virus but knew it wasn't mentally healthy to stay indoors all day. Besides, a ramble along the lake wouldn't be that taxing.
We brought the "chuck it" device to whip the dog's ball inland while we walked. Matika badly needed the exercise. For obvious reasons, she doesn't get out enough when I'm sick.
I saw a robin grazing on the snow-free lawn right before we headed out. I refrained from making too much of it. Yes, it's starting to look and feel like spring but, as Judy reminded me, it's still winter here in Vermont. Let's not get ahead of ourselves.
A solitary fisherman sat on the punky ice, seemingly oblivious to the pressure cracks and open leads of water nearby. Better him than me. I stepped onto a sheet of ice along the shoreline, felt it give, then stepped back.
Good thing we were wearing our winter jackets. A chilling breeze whipped across the half frozen lake in stark contrast to the warming sun overhead. Mixed signals. Yeah, it's that time of year.
I looked for some hint of fresh vegetation pushing up through the barren ground but found nothing. The buds of a few hardwoods were swollen, though.  It's coming, slow but sure.  Patience, patience.
Judy and I didn't talk much during our short walk, yet there passed between us a few knowing glances.  Not quite spring but it still felt good to get outside. Good enough for now, anyhow.
No responses yet