Mar 19 2012


Walt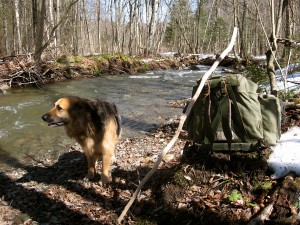 Judy kicked me out of the house yesterday, telling me that I badly needed to go for a hike in the woods. I didn't argue. I was exhausted from yet another week of burning the candle at both ends but recognized the therapeutic power of getting outdoors. So I grabbed my pack and went. Matika was right on my heels, of course.
With the snow completely gone in the Champlain Valley and temps soaring into the 70s, there was no denying the outbreak of spring. The brown countryside I drove through looked more like March than April. What the heck, why not take advantage of the situation? I headed for the mountains.
The logging road I hiked up was soft and muddy – easy on my tired feet. I plodded along conserving what little energy I had. Matika, on the other hand, was all over the place sniffing about and running wildly. Silly dog.
I crept past a closed gate, some maple syrup lines and a blown beaver pond. Hardly any snow on the ground for the first mile, but that changed quickly once I crossed the Smith Brook, entering a copse of hemlocks. There the snow cover was patchy. A few minutes later I crossed the brook a second time, reaching the retreating edge of winter. I stopped for lunch. No point going any farther uphill.
Robin, fly, butterfly. At 1200 feet the natural world wasn't exactly teeming with life, but the first signs of spring were apparent all the same. The murky brook was half full of runoff. Remnant moss and ferns offered green hope. The bright sun blazing through naked trees gave the forest a surreal look. I soaked it all in while slouching against a tree, daydreaming.
A handful of snow rubbed across my sweaty brow. A splash of mud on my pants as Matika raced past. And the raw, distinct smell of the earth awakening. That's all I needed to celebrate the Spring Equinox a little in advance. The world this time of year is supposed to be stark, almost barren, stripped down to essentials. I expected nothing else. So the robins singing loudly later on at dusk came as a pleasant surprise.
No responses yet