Oct 15 2012


Walt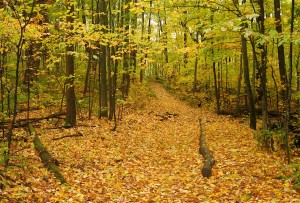 A few days ago I hiked around Indian Brook Reservoir, immersing myself in autumnal color. Yesterday I did it again on Aldis Hill, enjoying the not-so-subtle hues of the season despite the chilling air and thin drizzle. Rain or shine, the New England forest is magnificent this time of year.
At the hotel where I work evenings, tourists have been inquiring for weeks about that ever-elusive phenomenon called "peak foliage."  I have done my best to point them in the right direction so they could snap their postcard photos and experience technicolor ecstasy. But mine is an entirely different take on the season, where each step on this steady march towards winter is just as precious as the next.
Strong winds last week shook a lot of the most colorful leaves from their tenuous moorings, thus blanketing the forest floor. That works for me. I don't care if the color is up there or down here. It's all beautiful, and the pungent leafy smell is reason enough to ramble through the woods.
From the first color to the first frost and beyond, Nature slowly closes shop. The growing season ends and it is time to bring in the fruits of the land. The long siege is not far away. These are not days one should waste.
There will be some balmy days still, and here in the lake valley where I live some leaves will cling to branches for several more weeks. That said I have no illusions about where all this leads. So each walk I take is a joyful prayer of thanks. Every autumn moment is delicious. I harvest what I can.
No responses yet