Oct 26 2012


Walt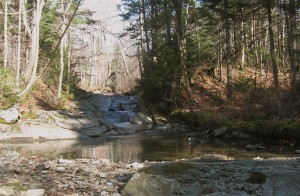 Taking a day off from writing as well as the hotel job, I grab my pack, load the dog in the car, and head for the hills. The sun is shining and temps are already in the 50s. I have a feeling that this might be my last shirtsleeves hike for a long, long time.
I park my car along the edge of a rough dirt road cutting through the Belvidere bog then tag an ATV trail skirting some flooded areas. A woman with a pack of huskies suddenly appears. They are followed by an old man leading a draft horse. After that five hunters come along on two ATVs dragging a dead bull moose. What next?
The rest of the hike is a solitary affair. I walk up the logging road to a stream crossing then follow the brook while recalling a similar outing years earlier. Back then I had gone on a walking meditation. I had traced the Calavale Brook to its source before turning around. On the way out, weakened by a daylong fast, I had stopped to nap on a flat rock next to the brook. When I awoke, I saw two brook trout swimming in the nearby pool.
Finding a pool similar to the one where I had napped years earlier, I stop to eat and rest. My dog Maika stands guard after lunch, half expecting another surprise encounter. I listen to the brook tumbling over a five-foot ledge to the shallow pool while jotting down a few stray thoughts in a field journal. The surrounding trees, mostly birches, have lost all their leaves already. Here in the Green Mountains, winter isn't far away.
It's hard to explain the primary benefit of an outing like this. A day alone in the woods has a leveling effect. Whenever my boots are wet and muddy, and I'm sweaty from a rigorous walk, I seem to be more receptive to wildness both without and within. Then I see the world in a way that's not possible in the developed lowlands. It's instructive to say the least.
Walking out is easy – downhill all the way. I soak my feet good while wading the flooded areas. Otherwise there's no adventure. Matika keeps stopping to sniff clumps of hair and bits of bloody flesh that the dragged moose left behind. That's amusing. But all too soon we are back to the car and driving home. Yeah, these daylong outings never seem to last quite long enough.
No responses yet