Nov 05 2012


Walt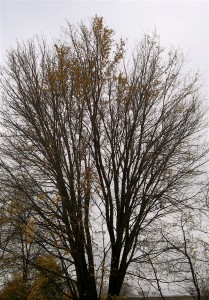 The old silver maple in my back yard is one of the last trees to shed its leaves. When I look up and see its naked branches against a grey sky, I know that the first snow isn't far away. That's good news to both deer hunters and skiers. To some extent that's good news even to guys like me, who do most of their thinking and writing during the colder half of the year. But it's hard getting past the inherent sadness of it.
We turned our clocks back over the weekend, making the most of diminishing daylight. I saw a few snow flurries yesterday while tossing the ball for my dog. I stayed outside for about a half hour before retreating indoors to hot chocolate, television football and a good book. A few days ago, despite cold rain, I raked up all the leaves the old maple had dropped. All bagged up, I will haul them away soon. End season rituals.
It's best not to fight it. I take pleasure in the warmth of well-lit rooms and will soon pull out my thermals so that I don't feel trapped indoors. I have several literary projects underway – enough to keep me busy until April. I shrug my shoulders at the prospect of five o'clock sundowns. All the same, I'll miss the green.
No responses yet